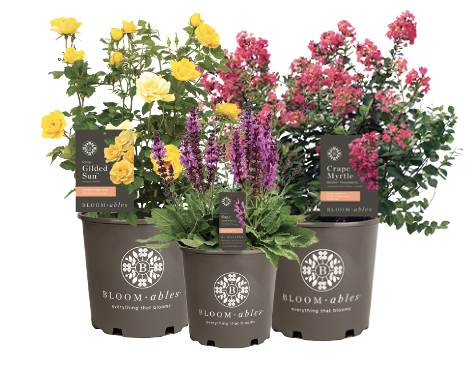 BLOOMABLES® CONNECTS GROWERS TO GARDENERS IN A MODERN WAY.
The top-performing plant genetics from Star® Roses and Plants and Darwin Perennials® are now offered in uniquely branded packaging with consumer-friendly tags. With comprehensive marketing solutions and innovative horticultural programs, this three-season retail brand is designed to turn a higher profit, faster. Included roses, woodies, and perennials offer reliable blooming, vibrant color, and innovative texture across all North American climates. Receive the Bloomables® benefit of eye-catching retail all season long.
---
BLOOMABLES® IS ALL ABOUT PROVIDING BEAUTIFUL SOLUTIONS.
The in-house Research & Development division at Star® Roses and Plants is a team of highly trained, thoughtful breeders and scientists who have an eye for what makes a quality new genetic. Both traditional and modern breeding techniques are used to develop industry-worthy and consumer-friendly plants. Numerous international breeding partners increase our pipeline of unique and robust genetics.
Our plants undergo rigorous in-ground and container trials across regional zones to ensure they are a successful solution for both home gardeners and industry professionals. Public gardens, nurseries, and universities partner with us and provide trial data that helps us decide whether a plant makes it to market.
Bloomables® continues to expand so that whatever you're looking for, you can find it here. We hope you will grow with us! Contact your Territory Manager today to order.